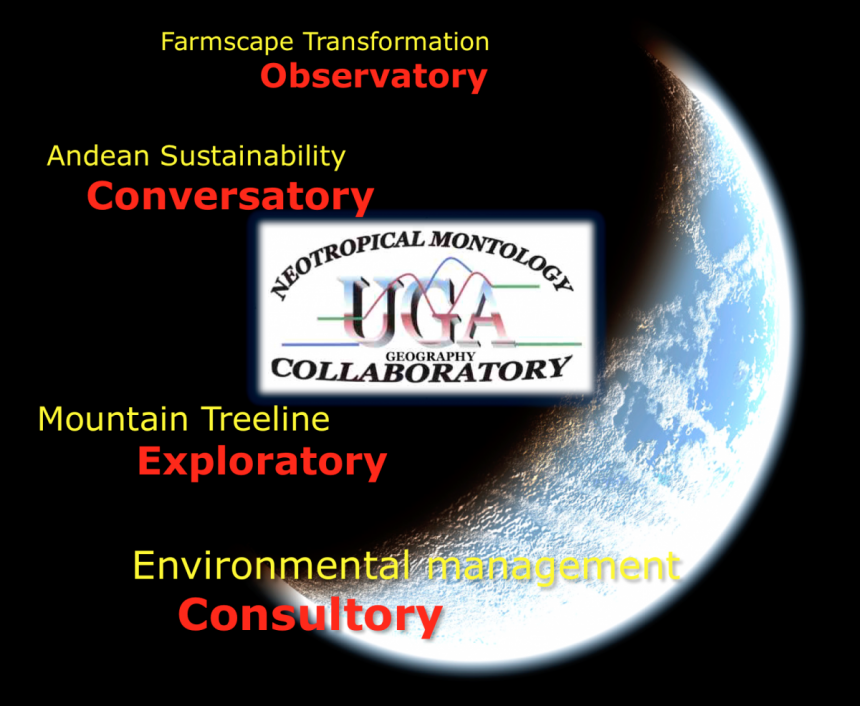 This virtual platform advances geoecological, transdisciplinary research on mountains (hence Montology) of the tropical region of the Western Hemisphere (hence Neotropical), with some ideas, operations, and structures dealing with at the laboratory, classroom, field and virtual levels for mutual benefit of partakers (hence Collaboratory) based at the Geography Department of the University of Georgia. This is a research network incubator of scientists and conservation practitioners dealing with issues of current hemispheric concern and relevancy to the sustainability of biocultural heritage of Tropandean mountains.
The NMC has several goals considered tangible research outputs, such as:
Establishing a joint, horizontally developed and executed platform to stimulate research projects and programs;
Facilitating a network of scientists and practitioners of montology and agrobiodiversity conservation to seek common goals;
Engaging graduate and postgraduate training in transdisciplinary science of tropical mountains of the Americas;
Producing dissemination outlets for montological research, including edited books, joint articles, a scientific journal, international conferences and other fora, blogs, etc.;
Catalyzing scholarly exchange of Andeanists and other scientists via professional organizations, such as the Andean Mountains Association and the Latin American and Caribbean Mountain Research Network;
Offering of learning outcomes from exploration, study abroad, mutual understanding and leadership development; and
Advising and consulting/contracting on mountain related development programs/projects for public and private clients.